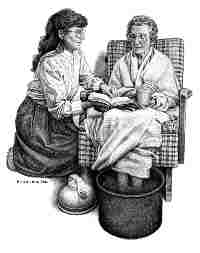 The Medical
Missionary Manual
















COMPILED FROM THE WRITINGS OF
Ellen White 2002
A SCHOOL TEXTBOOK AND A WORKING GUIDE TO THE TYPE OF MEDICAL MISSIONARY WORK DESCRIBED IN THE SPIRIT OF PROPHECY
"Medical missionary work is the pioneer work of the gospel, the door through which the truth for this time is to find entrance to many homes. Gods people are to be genuine medical missionaries, for they are to learn to minister to the needs of both soul and body. The purest unselfishness is to be shown by our workers as, with the knowledge and experience gained by practical work, they go out to give treatments to the sick. As they go from house to house they will find access to many hearts. Many will be reached who otherwise never would have heard the gospel message." Welfare Ministry, 125
Download Entire Book in free PDF eBook (920 KB)
To download: Right-click on link and chose 'Save Target as'.
















Contents:
THE KEY TO MEDICAL MISSIONARY WORK
SECTION ONE
ORIGIN, PURPOSE, AND FUTURE
1 Why the Medical Missionary Work and Health Message Was Given to the Remnant Church
2 The Message of Isaiah Fifty-Eight to the Remnant Church
3 The Future of Medical Missionary Work
SECTION TWO
BLUEPRINT EVANGELISM
4 Those Who Are Called to Medical Missionary Work
5 Where and How Medical Missionaries Should Receive Their Training
6 How Small Groups of Medical Missionaries Should Work
7 How Medical Missionary Institutions Should Operate
SECTION THREE
PRINCIPLES AND STANDARDS
8 Working Principles Which Should be Adhered to
9 Guiding Principles in the Establishment and Operation of Medical Missionary Institutions
9 B Guiding Principles in Medical Missionary Institutions
10 Working Standards That Should be Adhered to
SECTION FOUR
A MINISTRY OF HEALING
11 How Jesus Carried on His Medical Missionary Work
12 How the Ordained Ministry Should Relate Itself to Medical Missionary Work
13 The Areas of Work and Instruction in Which a Medical Missionary Should Engage
14 The Ten Steps that Must Be Followed in the Recovery of Health
SECTION FIVE
THE SIMPLE REMEDIES
15 Why God Has Directed His People to Employ the Simple Remedies, Rather than Relying upon Prayer Alone for Healing
16 Specific Principles by Which We Can Know Which Remedies Are "Drugs" and Which Are Approved of God
17 How Water Can Aid in the Recovery of the Sick
18 How Herbs Can Aid in the Recovery of the Sick
SECTION SIX
HEALTH PRINCIPLES
19 Should We Ever Compromise Our Health Principles in order to Help Those around Us?
20 Comments on the Common Cold
SECTION SEVEN
THE BIBLE PATTERN
21 - The Health Message as It is Found in the Bible
22 Medical Missionary Work as it is Found in the Bible
23 Health and Medical Missionary Stories in the Bible
24 Health and Medical Missionary Texts, Arranged Book by Book
25 Divine Healing as Found in the Bible
"The transgression of physical law is the transgression of Gods law. Our Creator is Jesus Christ. He is the author of our being. He has created the human structure. He is the author of physical laws, as He is the author of the moral law. And the human being who is careless and reckless of the habits and practices that concern his physical life and health, sins against God." Counsels on Diet and Foods, 43
"Thus genuine medical missionary work is bound up inseparably with the keeping of Gods commandments, of which the Sabbath is especially mentioned, since it is the great memorial of Gods creative work. Its observance is bound up with the work of restoring the moral image of God in man. This is the ministry which Gods people are to carry forward at this time. This ministry, rightly performed, will bring rich blessings to the church." 6 Testimonies, 266
What is included in medical missionary work? Who should be doing it? How should it be carried on? What institutions should be operated within the cities? Which ones should be located only in the country? How important is such a work? Are only the professionals to have a part in it? What remedies are to the be used? Which are forbidden? These are all questions that need answers.
















TO SUCCESSFUL MEDICAL MISSIONARY WORK

IS FOUND IN MINISTRY OF HEALING, 126 - 128 HERE IS PART OF IT

126:1

Many transgress the laws of health through ignorance, and they need instruction.

126:2A practice that is laying the foundation of a vast amount of disease and of even more serious evils is the free use of poisonous drugs.

126:3-4People need to be taught that drugs do not cure disease. [IMPORTANT: This paragraph explains what drugs do in the body.]

127:1The only hope of better things is in the education of the people in right principles. Let physicians teach the people that restorative power is not in drugs, but in nature. Disease is an effort of nature to free the system from conditions that result from a violation of the laws of health. In case of sickness, the cause should be ascertained. Unhealthful conditions should be changed, wrong habits corrected. Then nature is to be assisted in her effort to expel impurities and to re-establish right conditions in the system.

127:2Pure air, sunlight, abstemiousness, rest, exercise, proper diet, the use of water, trust in divine powerthese are the true remedies. Every person should have a knowledge of natures remedial agencies and how to apply them. It is essential both to understand the principles involved in the treatment of the sick and to have a practical training that will enable one rightly to use this knowledge.

127:3-128:4We cannot be too often reminded that health does not depend on chance. It is a result of obedience to law.